Recovery of exhaust valves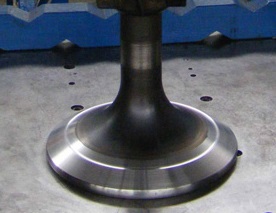 For the past 9 years MET GmbH. has been successfully recovering exhaust valves for large two-stroke marine diesel engines with very short throughput time (10 days).
These experiences have proved the profitability of refurbishing valuable mechanical components. The recovery incorporates soldering the seal seat and valve disc with plasma powder welding with a corrosion, impact, and heat (up to 1100°C) resistant nickel based alloy, coating the valve stem using the HVOF process, and mechanical finishing.
---